Singapore is one of the best cities in the world for a date, literally on top of the world. With skyscrapers galore, cool venues and innovative cocktails; a date at one of the rooftop bars is a must this month. We've done the legwork for you and hunted down some of the top choices in the city: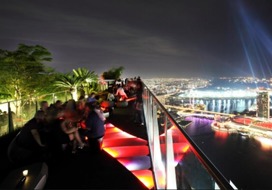 1-Altitude Gallery & Bar
Want to dine among the clouds? Occupying 16,000 sq. feet across three levels, 1-Altitude is the highest rooftop bar in Singapore – and 63 levels up on Raffles Place. – the city's tallest building. Accessed via an express lift and offering 360-degree views of the city, the adjacent coastline and the nearby islands of Indonesia, it really is like standing on top of the world. The bar itself is chic and modern with multi-colour low lighting and offers innovative cocktails, both classic and signature creations from the resident mixologists. The food menu is mostly tapas dishes, which are perfect for sharing. Get there at about 6.30pm to watch the sunset and the lights sweep across the city for the ultimate romantic moment.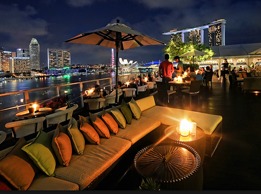 Lantern Bar
This stylish rooftop bar on the top of the Fullerton bay Hotel offers stunning views of the Marina Bay waterfront and the world-famous skyline. One of the key attractions is the fabulous blue-tiled pool, bordered by cane chairs, where you can grab a cocktail and lie back, enjoying the serene atmosphere. While it is only on level five and doesn't give panoramic views, the light show of Marina Bay and fireworks on special occasions can still be seen. There are sunbeds for two, lazy cabanas and music – so is the ideal place to get cosy if your date is a winning one.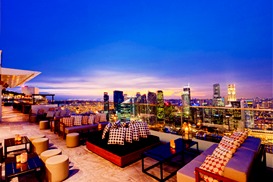 Ku De Ta
Want to watch the Marina Bay Sands light show in style? Head up to Ku De Ta on the 57th floor, which is 200m above sea and offers fantastic panoramic views of the city and bay. The venue is split into a restaurant and club lounge, so whether you want a chilled out meal or a night of dancing and cocktails (or both), this is the place to head to. Again, 6.30pm is a good time to arrive to see the sunset before a few drinks and the light show. Check out the Tony Stark's Pepper cocktail – peppercorn infused with Grey Goose vodka, caramel syrup, lemon juice and seared pineapple.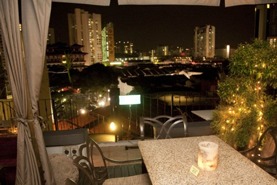 Breeze 
Sitting on top of the Scarlett Hotel, is the alfresco-style fourth floor restaurant and bar, overlooking Chinatown. As well as great views, there is a yummy Asian- and Mediterranean inspired food and innovative cocktail list, with interesting date-friendly names like Soft Caress, Dominant and Fore Play. There are also oysters and champagne on the menu, should the mood take you!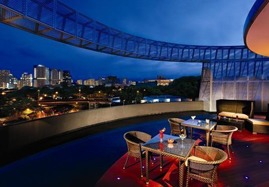 The Rabbit Stash
Replacing Halo, this award-winning hotel boasts a new stunning utilitarian-style bar and restaurant on the rooftop of the seventh story. There is live music every Thursday through to Saturday from 7.30pm to 10.30pm, handcrafted cocktails and food from award-winning chef, Matthew Mok. You can sit either indoors or out and opt for everything from a after-work drink through to the seven-course tasting menu, which is termed ENSOPHI – an acronym for Exotic, Nostalgia, Soil, Ocean, Pristine, Heritage and Impression
Do you have other rooftop hangouts you want to share? Tell us @lovestruck
Enjoy these date ideas? You may also like: Go Wild In Singapore
Tweet