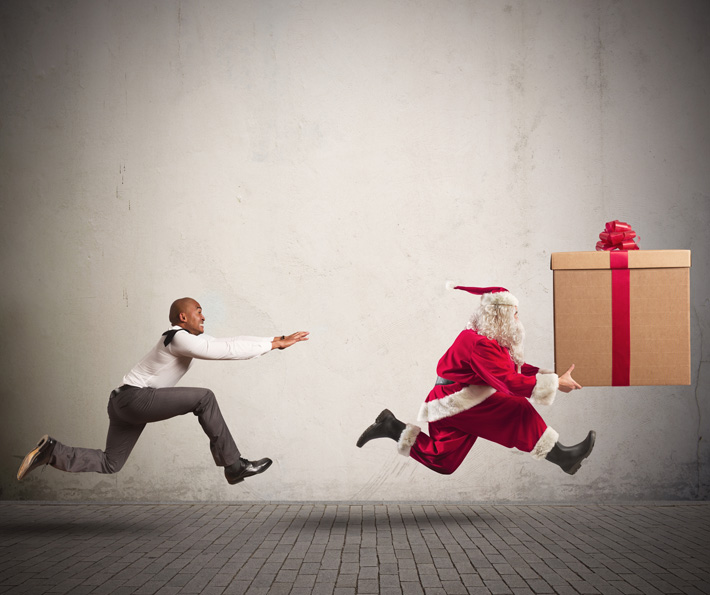 We know, we know, you've still got conjunctivitis from those freaky Halloween contact lenses and the smell of Bonfire in your hair from the weekend but there's no avoiding it. Christmas is coming and it's only a matter of minutes before Mariah Carey is repeatedly telling us that, 'All I Want For Christmas is yoooooouuuu!' in every shop we dare to enter.
But if you're lucky enough to be in a shiny new relationship and think he might be around for Christmas, congratulations! But here's the tricky part. What the hell do you buy him? You don't want him to think Santa short-changed him by buying the wrong gift as that tells him you've not really paid attention to his likes and dislikes or even read his dating profile.  Equally, you don't want to feel like dying when he presents you with a little box from Tiffany & Co when you're hiding an iTunes gift card behind your back worth £10.00. Awkward.
1. Be modest but thoughtful
We woman can be scary when we're blissfully in love. It's easy to get carried away with a new squeeze as a) we're thrilled he's finally taken us off the market b) done it before Christmas.  But over spoil him too early on with a huge expensive gift and he could end up freaking out,  feeling awkward and thinking that you like him a little too much. Sure it's nice to show you've listened to his dreams of kayaking in Kayakstein but don't buy him the plane ticket – a Kayakstein guidebook will do. Only you won't find this one…
2. The clues are there…
Some of them in his profile. Men are big kids at heart – period. You can't go wrong with toys and gadgets, funny ones, useful ones, really clever ones. Start there first. Then think, other than you, what lights up his life and brings a sparkle to his eye? Think of all the things he talked enthusiastically about on your first few dates. He likes action movies? Er, how about a clay pigeon shooting day? Is he into sports or adventures? Buy him an annual subscription to his favourite sport or health/fitness/adventure mag.  Why do we love annual subscriptions? Because if he dumps you, the memory of you will be slapping his door mat every month like a stinging slap to the face. Who does he admire? Laugh at? Do they have a new book out? Are they performing or talking near you any time soon..?
3. Avoid cliché
Neckties, socks, wallets gloves and scarves – trust us, he has been getting these gifts for years and if he smiles and looks appreciative when you add another to the pile, trust us, he's really dying inside. He might say socks are useful when you ask him what he wants but he's lying and being polite. There is more to mankind than ties, socks and gloves. Do you want socks for Christmas? You do? Get out more. You're still buying him a wallet? Get it embossed with his initials and make sure those socks are gold-threaded cashmere.
4. DIY gifts
We've not talking a Blue Peter style 'Tracey Island' made from cereal packets here. Do you knit? Knit him a beanie with something quirky/funny that only you two get.  Knitted scarves are OK because then he wraps a little bit of you around his neck all winter, ahhh. Or make a playlist of his favourite songs from his favourite Uni or college days or, songs that are meaningful to you both? How about making a funny canvas of your early dating. Focus on funny pics as this can be borderline 'stalking' in the early days.  Are you a dab hand at painting and drawing? Paint and frame something meaningful to him like..his favourite pub. Has he got any pets? Draw or paint them and if he balks at the fact it doesn't resemble them one bit, tell him you painted the real them.
Do you have any fab xmas gift ideas for a new boyfriend? Do share them @Lovestruck
Save
Save
Save
Save
Save
Save
Save
Save
Save
Save
Save
Save
Save
Save
Save
Save
Save
Save
Save
Save
Save
Save
Save
Save
Save
Save
Save
Save
Tweet