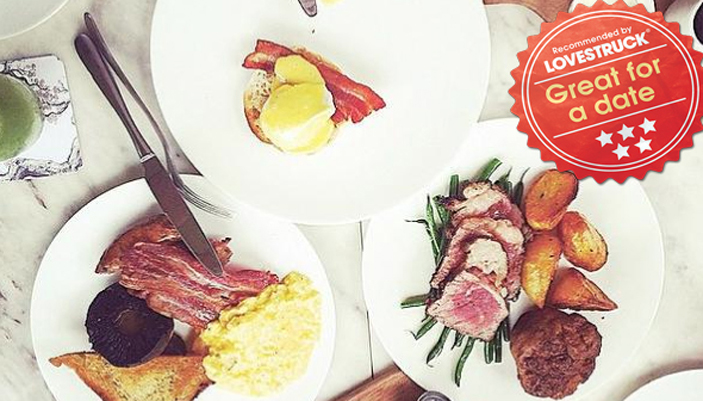 It might be described as "the city that never sleeps", but whether you had plenty of shut-eye (or none at all), we think brunch makes a great date option and there are countless brunch options, ranging from champagne on the 108th floor, to more modest affairs. Here are our top date choices: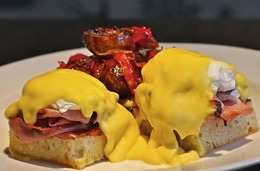 208 Duecetto Otto
A buzzing and vibrant neighbourhood restaurant and bar in a New York Meatpacking district vibe in the Sheung Wan district; this venue is fabulous for a brunch date. Set over two storeys, it combines a lively bar area downstairs and a more intimate dining room upstairs, with semi-outdoor seating, overlooking Hollywood Road. The brunch menu, which is served until 3pm, is extensive and includes everything from eggs florentine and lobster & poached egga, to pasta, pizza and yummy desserts.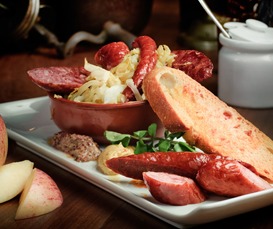 Lily and Bloom
Offering diners "a lazy semi-buffet brunch experience" on Saturdays from 12pm-3pm and Sunday from 11am to 4pm, Lily and Bloom serve up brunch their way. The action includes an omelette station with five different egg choices with toppings selection including bone marrow, truffles and more and freshly shucked oysters, all washed down with free-flowing Bellinis and Bloody Mary's. This venue has also won a heap of awards for its décor, so expect dark wood and a lofty New York feel.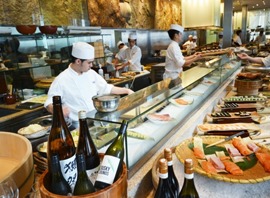 Zuma
Located on the fifth and sixth floors of The Landmark, in the heart of Central, Zuma brings a unique Izakaya style of "sharing" dining to the city. Brunch is served on Saturday and Sunday, from 11am to 1pm and 2pm to 4pm and they book in advance. Titled Baikingu brunch, brunch includes sushi and sashimi to start, main choices include tempura, salmon, black cod or spicy beef tenderloin, before a huge desert platter. In between, you can sip on Veuve Clicquot champagne or red and white wine.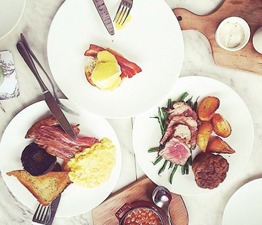 The Pawn
Housed in one of the most iconic heritage buildings in town, the Pawn recently reopened after a renovation carried out by celebrity chef Tom Aikens in partnership with Press Room Group. Spread across three storeys and overlooking the bustling scene of Wan Chai, the Botanicals Bar and bar 1908 on the first floor, with the main dining area on the second and the rooftop garden, where the vegetables and herbs are planted. Brunch features favourites like a full English, sausage and mash and macaroni cheese. There are also milkshakes, fresh juices and smoothies to drink.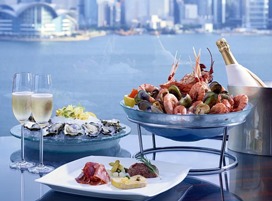 Ozone
Located on the 118th floor of the Ritz Carlton hotel, Ozone serves up the ultimate brunch with a view. The four-courses includes a huge choice of dishes, including Eggs Benedict with spinach, shaved truffle and English muffin, Mexican wrap with braised pork, avocado, pickle and onion or Wagyu beef burger and fois gras ganache. There is also an array of appetizers, pastries, delicate desserts and Dom Perignon.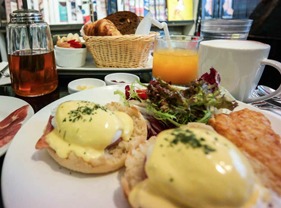 Brunch Club
Defining themselves as a "cosy neighbourhood café and newsstand. A place to relax and have a meal any time of day", Brunch Club is a firm favourite in the SoHo district of the city. You can expect simple brunch-style fare any time of the day such as yummy homemade breads, salads, sandwiches, pasta, croques and burgers. There is also a secret garden at the back, so you and your date can dine al-fresco in the heart of the city.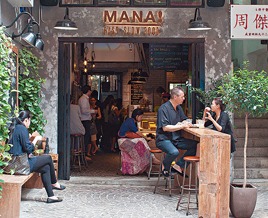 MANA!
Are you on a health kick? Vegan? Going gluten-free? Or is your date an eco warrior? Serving healthy and wholesome food, MANA!'s ethos is an eco-friendly alternative to fast food. The food is organic, sustainable and natural, and the signature flatbreads, such as Peace with halloumi, tomato and mint, Love with halloumi, rockets and roasted veggies or Bliss, with avocado, hummous, cucumber and spinach, make a great brunch option.
Do you have any more great brunch recommendations? Tells us @lovestruck
Enjoy these date ideas? You may also like:  Top 10 Picnic Spots in Hong Kong
Tweet