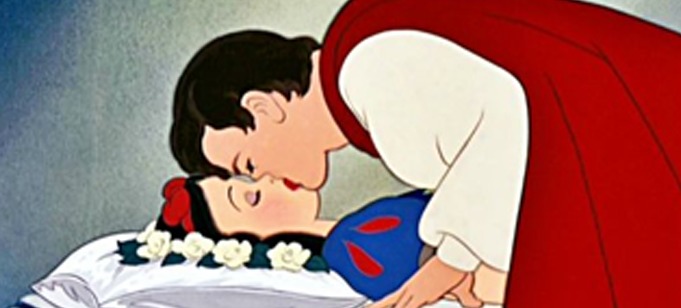 "Oh sure, kiss me now I'm dead…."
Ah being single royally sucks sometimes, doesn't it? Prince Harry thinks so, recently admitting he'd love to be married with kids just like his brother. Hold on Harry, isn't it us ladies who were brought up on a literary diet of so called romantic fairy tales that taught us if we were pretty and tragic enough, a handsome Prince would ride up on his horse to steal us away from the drudge of work and life? Still, it would be nice, wouldn't it? Really?
While our modern day Prince Harry would no doubt be fab to date, we take a closer, tongue-in-cheek look at those fairy tale Princes we once wished would carry us away into the sunset.  Wow, how age and experience makes us wiser. Think we had a lucky escape hey ladies…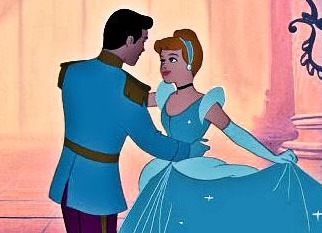 Cinderella – Prince plonker:
So let's get this straight. The Prince sees Cinderella across a crowded ballroom and completely falls head over heels in love. He can't take his eyes off her. They chat, she doesn't leave his side all night and they dance til midnight where she panics and flees (she probably caught sight of her car-crash reflection – the result of a night of drinking and dancing) She's so drunk she loses a shoe. So besotted with Cinders is he that he sends out a search party. Yes, it's nice he makes the actually effort, we're all for that but to find her but by seeing who's feet fit her shoe? What the? OK, so the Prince and Cinders weren't on Facebook but he can't even remember her face? Hell they even have to try the slipper on her ugly sisters who are clearly not Cinderella! Der! Nah, this is poor. His attention to detail is pitiful. Bloke's a loser. Best off without him. Keep him, Cinders and good luck.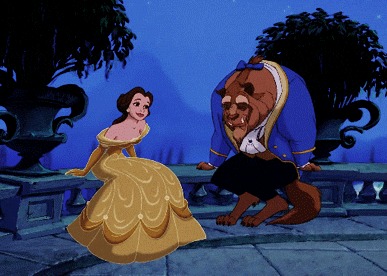 Beauty & The Beast – Prince control freak

So this Beast, not blessed in the looks department is obviously getting no where via internet dating. So what does he do? Basically threatens Belle's poor dad and kidnaps Belle. Nice. Though today the Beast would probably be facing life in prison, but Belle being a kind hearted but frankly weak lass, appeases the controlling Beast and stays with him. Options weren't so great for ladies back then but eventually, despite his lavish surroundings, living with his beastly bad breath and full on body fuzz,  Belle wants out and does a runner. Soon after, she sees how badly he is fairing without her via his Facebook page of self pitying selfies, so she returns. Control freak alert! We very much doubt her version of events here where she states that when she then kissed the Beast he physically turned into the Prince of her dreams. She was either completely bladdered, high on drugs or more likely,  a case of say it enough times and it becomes true…
Firstly, Snow White should have done time for breaking and entering the home of the seven dwarfs but well, she wasn't the sharpest pencil in the box – accepting an apple from a cold caller at her front door. Who does that? But now we now turn our attentions to this Prince. Was he ever there when she really needed him? Oh no he was floated about the forest and it was only after she was poisoned to death by said apple that he notices her 'dead body' in a coffin (which can't be her best look)  but he decides she looks hot! Urgh. What kind of sick person gets his thrills from the sight of a dead body and worse still, instructs it to be carried back to his? Er, for what purpose? There's a word for him, starts in N ends in 'ophilia.' Thank god she woke up but in time we bet she wished she never had….
Banished to a door-less tower because her dad stole from a witches garden (der, of all the gardens…) Rapunzel is confined to a life of solitude,  punctuated by the occasional  yank of her follicles to heave up the witch (though frankly if she were bright enough she would have cut her plait mid-climb and see ya, Witchy ) A Prince, again floating about the forest (get a job) hears her singing and asks her to heave up his heavy carcass just so he can check her out, basically. So what does he do next? Rather than run off back to his castle to bring a ladder or find a rope no, he brings her a piece of silk over several visits so she can weave her own poxy rope and finally escape. Sorry, he's a lazy opportunist and one brick short of a tower. Cut him loose Rapunzel.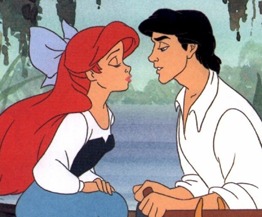 The Little Mermaid – Prince selfish loser

He, the Prince, almost drowns and she saves his life. She falls in love with him, sacrifices everything to become like him including a potion to make her tail into legs though her feet will feel as if they are walking on sharp knives. Oh, she now has no tongue as that was the from mermaid – human deal (yeah, see we've all done this) So she goes to find the Prince anyway. She turns his head because she's pretty. She can't talk but she can dance even though it kills her to do so. So what does he do? Asks her to dance and dance just for him, oblivious to her pain, for his own selfish satisfaction. His father orders him to marry another. Rather than be loyal to her, he's gutless and marries the other bird. Little Mermaid's heart is broken, she should kill him says a witch…but she can't. She throws herself off a ship into the sea to kill herself but is told because she is kind-hearted, she might one day rise up…oh we hope she rises and whoops that Prince's sorry backside from here to kingdom come…
And we doubt any of them lived happily ever after. The end? Not quite, the moral of our tale?  Ladies, don't wait for a Prince, they suck.
Except Prince Harry, now, where did we put his mobile number…
Did we miss any other flawed fairy-tale Princes? Guys, your turn to get your own back, what about any flawed princesses? Tell us your tale @Lovestruck
Tweet