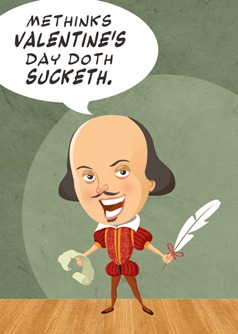 OK, we're sorry to mention the 'V' word, but being the first week of Feb does mean that Valentine's Day is just around the corner. To make matters worse, it falls on a Saturday this year and if all your friends are coupled up and smug, then do not worry. We have decided on a few Valentine's Day treats for you to enjoy – no matter what your relationship status!
1. Indulge Yourself: Valentine's Day is all about spreading the love, so pamper yourself instead! Book yourself in for a fabulous full-body massage, order a takeaway or complete a Netflix movie marathon. After all, you have no one to answer to, share the remote with or compete with for the last prawn cracker. Every cloud and all that!
2. Send some love someone else's way: OK, so you might not have anyone special in your life but studies have shown that kindness spreads like a domino effect. Give Valentine's Day cards to your fellow single mates, or that fit guy or girl at the local you've been meaning to talk to for ages. Not into cards? Volunteer locally because this has also been proven to boost happiness and self-esteem.
3. Organise a Secret Santa: Perhaps one for just the girls but round up all your friends and organise a Secret Santa-style gifting session. Just because you're unattached, why should you miss out on heart-shaped chocolates, roses and that pink-coloured fun? Afterwards, get glammed up and head out to a bar or throw a party at home.
4. Ignore the whole thing: There really is no reason why you have to buy into the whole love-fest that is Valentine's Day. Use the day and evening to do something productive you have been meaning to tackle for a while; be it organising your wardrobe, hitting the gym or reading a classic novel.
5. Ask a friend of the opposite sex out: Go and a platonic date, even if you spend all your time laughing at the other cheesy couples spooning spaghetti into each other's mouths. Science has shown that having friends of the opposite sex is good for you and can give you the benefits of having a 'lighter friendship' with more fun and having someone to talk to who will listen.
Are you single this V-Day? What have you got planned? Tell us @lovestuck
Tweet