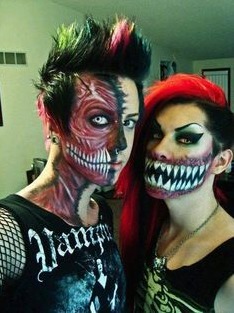 Thinking of staying in this Halloween cos you've no-BODY to go with? Up! Out of that chair and get to the nearest party quick. There's magic in the air, spells to be cast and this is your time to spook and shine!
Whether you're new to online dating, are a little bit shy or you're nervous about that first date, here's why Halloween is the perfect opportunity to get mingling…
1. This is the one day of the year where anything goes. Weird, super freaky or super sexy – no one is going to judge you on the creepiest date of the year!  You can dress as you like, hide behind layers of make-up and fake blood and be who and what you want to be.
2. Pick a costume that you'll be comfortable in for the evening. If you've always wanted to be a little sexier, here's your chance. Ladies let's face it, on Halloween you can dress as tarty as you like and no one will judge you! Guys, maybe you've got the walking dead moves down to a fine art (especially after a few drinks). Here's your chance to show em what you got.
3. Work that alter ego: It helps if you pick a costume of someone you think it pretty cool. Maybe a sexy or powerful character from your favorite movie. A superhero, a creepy person you've always been intrigued by…become them, adopt their alter ego for one night and allow yourself to say what you want and flirt your little heart out….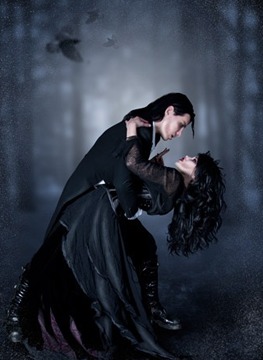 4. Couple costumes: It's also a great chance to arrange costumes of famous complimenting couples for pre-booked date fun; Morticia and Gomaz, Sweeney Todd and his wife, Bonnie & Clyde, it will bond you for the evening too.
Jenny Stallard, new regular dating columnist for the Metro UK says, "Fancy dress often leads to cheeky behaviour so if you're single and looking for 'action' Halloween is a really fun and flirty time. If you are looking for long term love though, I'd steer clear of anything more than a cheeky smooch with a fancy dressed suitor on this night. My other warning is to remember they could look quite different under the face paint!"
Did you know:  38 per cent of Lovestruck.com women rated male 'Vampires' as the most attractive (do we think Robert Pattinson assisted with these stats)? And 35 per cent of men rated Cat Woman as the most attractive and sexy female costume…no surprises there!
Pumpkin lovin' Staying in? Here's a very good reason to bake up a little Pumpkin pie! The Smell & Taste Research Foundation in Chicago, confirmed the smell of pumpkin pie stirs a sexual response in males by increasing penile blood flow by up to 41 per cent!
Will you be dressed to thrill tonight? Send your spooky Halloween selfies to @Lovestruck and stay safe out there…
Tweet