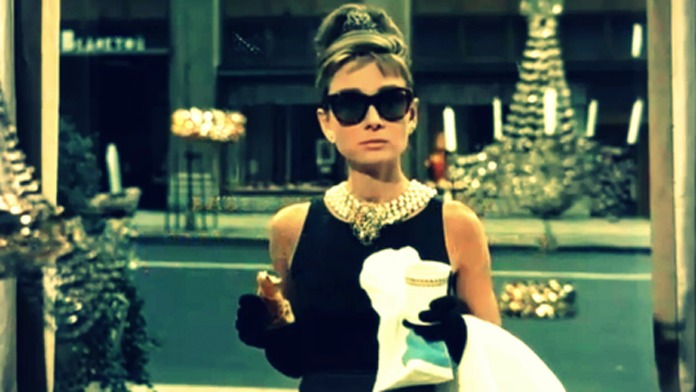 When it comes to breakfast dates, some soggy cornflakes just won't cut it. In honour of British Breakfast Week, running from January 24 to 30, we have scoured the capital for some of the most date-friendly breakfasts around. Like coffee dates, breakfast dates make ideal dates if you are single in London because meeting in the morning takes the expectations away but unlike coffee dates, you get the chance to know a bit more about your date – are they a waffles or pancake kinda girl? Or a Full English kinda guy? As well as being relatively inexpensive due to the lack of alcohol involved, there is also no stress involved with the dress code (unless you're Audrey Hepburn…)
So, chasing the last of the egg yolk around our plates with our fried bread, here are our top brekkie bites. Nom.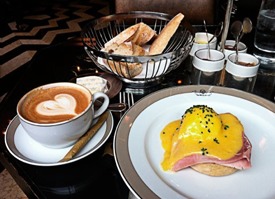 The Wolseley
An institution when it comes to breakfasts (AA Gill even wrote a book called Breakfast At The Wolseley about it), this Piccadilly spot is the best spot to go for breakfast on a grand scale. From the stunning Art Deco surroundings, to the impeccable service and coffee menu as long as an arm, you really can't go wrong with a date here.
Order: One of the opulent egg dishes or go for a date-friendly mixed basket of croissants, Danish pastries and pain au chocolat.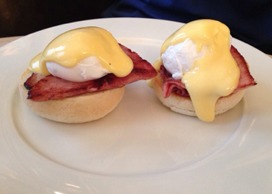 Berners Tavern
This decadent dining room from Jason Atherton is housed in the new Edition hotel in Fitzrovia. There is a huge lobby bar, vast dining room and ornate decoration, making this one truly glamorous breakfast experience. In comparison to their lunch and evening meals, the prices are also very reasonable.
Order: The hazelnut waffles, berries and cream or avocado and poached eggs on toast. If you're seriously into your date and want any excuse to hang around, linger over the Full English with eggs, sausage, bacon, tomato, mushroom and black pudding.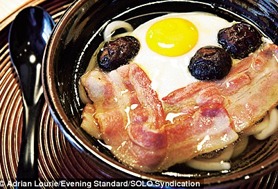 Koya Bar
Located on Frith Street in Soho, Koya Bar offers breakfast with a Japanese twist. Originally launched as a second branch of the ever popular noodle bar Koya, next door, Koya Bar also offers morning food, such as noodles with raw egg and soy sauce or traditional bacon and eggs fused with traditional Japanese ingredients. They do not take reservations but open at 8.30am on weekdays and 9.30am at weekends, so get here early.
Order: The English Breakfast – bacon, eggs, shitake mushrooms and udon noodles – a combination of British tradition and Asian flavours.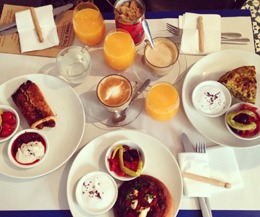 Honey & Co
Named as The Observer Food Monthly's best newcomer aware of 2013, this Middle Eastern eatery on Warren Street in Fitzrovia serves up delicious authentic breakfasts in their cosy dining room with a neighbourhood feel. Make sure you book first – it is hugely popular!
Order: Ijje – a herb, feta and buttered leek frittata or toasted fig, walnut and orange loaf, served with butter and marmalade.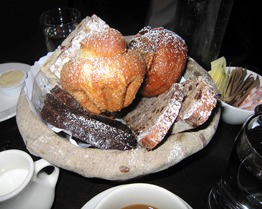 Balthazar
This American-inspired eatery in Covent Garden has a shiny art deco interior and offers and abundance of Breakfast favourites. All the bread and pastries are made in the Balthazar boulangerie next door and the basket selection comes with warm chocolate spread.
Order: New York pancakes with fresh banana and Canadian maple syrup or scrambled eggs and Cornish crab, served with toasted Balthazar sourdough toast and crème fraiche.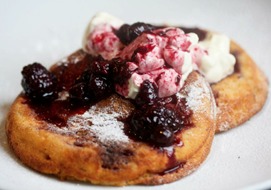 The Modern Pantry
This restaurant is housed in a stunning Georgina townhouse and fuses every day ingredients with contemporary cooking. New Zealand Chef Anna Hansen runs the kitchen and you and your date can expect an array of cooked breakfasts, sides, pastries and fruits and grains.
Order: If you are feeling virtuous the Modern Pantry chia seed pudding with blackberries, quinoa caraway toasted buckwheat served with honey and coconut yogurt is delicious, while meat-lovers should go for the eggs with smoked streaky bacon, slow roast tomatoes and buttered mushrooms.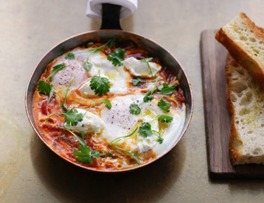 Nopi
Yotam Ottolenghi's Middle Eastern cooking means a twist on breakfast favourites at his Soho restaurant. Familiar dishes are mixed up with new flavour to create more than your normal eggs and bacon.
Order: Shakshuka, a combination of braised eggs, tomato sauce and smoked yogurt.
Do you have any other breakfast date recommendations? Tell us @lovestruck
Tweet