Jo Barnett, UK's leading dating coach explores…

Unrealistic romantic films and happy-ever-after lovey dovey novels have always gushed about finding 'The One'.
We're led to believe that our true soulmate is nestled away somewhere in a hidden magical cave by the sea and that one day, after kissing an obscene number of frogs and partying our fun-loving selves to a state of delightfully delirious exhaustion, we'll eventually find them and stay with them forever in a heightened state of continuous bliss.
But what if there are more 'ones'? What if we're compatible with numerous people, at various stages of our gloriously erratic lives?
What if 'The One' is (horror of all horrors) just a big hairy old MYTH?
Dentyl Active, the alcohol free mouthwash with a two phase bad breath busting action, conducted an interesting survey into the British dating world, asking 1000 men and women rather revealing questions regarding love and relationships.
Only 21% of everyone questioned believed that there was just one person out there for everyone, whereas a more realistic 56% felt that it's possible to be compatible with a number of different individuals, and that circumstances are what determine your chances of meeting that special someone.
Even more intriguing, 19% felt that it's possible to be compatible with 'many people', completely shunning the idea of 'The One'.
Maybe the idealistic belief in 'The One' and the thought that there is just a single ideal person out there is what greatly hinders your chances of finding true love.
We say, maybe 'The One' exists, but don't waste your time searching for him/her. Put your glad rags on, get out there, forget what others think and be open to getting to know all kinds of weird and wonderful people – because maybe, just maybe, your true soulmate may be who you least expect.
KISS & TELL: The Dentyl Active range of mouthwashes is scientifically tested to kill and remove oral bacteria, leaving teeth and gums protected for up to 18 hours so that your breath is blissfully fresh…and you are ready to get up close and personal.
SAY HELLO TO DENTYL ACTIVE – SHAKE IT. SEE IT. FEEL IT. ®
The Dentyl Active range of alcohol free mouthwashes contain antibacterial ingredients – natural essential oils and Cetylpyridinium Chloride – CPC. Both ingredients, which have to be shaken together before swilling the mouthwash around the mouth, are proven to 'bust' oral bacteria which cause nasty breath. The bacteria and debris then stick to the clever mouthwash solution. When you rinse Dentyl Active out from the mouth you can see the bacteria, food debris and other deposits, removed and highlighted as small, brightly coloured masses in the sink. Now that's just plain smart thinking from Dentyl Active!
DENTYL ACTIVE – RANGE FACTS & STATS:
Dentyl Active Plaque Fighter™ – available in Smooth Mint and Fresh Clove flavours. Dentyl Active Plaque Fighter contains two antibacterial agents – CPC and Peppermint oil1. These antibacterial ingredients help destroy bacteria, especially plaque-forming bacteria and provide long lasting fresh breath. Contains 0.05% (225 ppm) fluoride.
Dentyl Active Complete Care™ – available in Icy Fresh Mint and Icy Fresh Cherry flavours. Dentyl Active Complete Care works in six active ways, leaving users with a 'professional clean' feeling and fresh breath for up to 18 hours2. Dentyl Active Complete Care contains 0.05% (225 ppm) fluoride.
Dentyl Active Enamel Restore™ – available in Icy Fresh Mint. Dentyl Active Enamel Restore contains double the fluoride level of the rest of the Dentyl Active range (within recommendations) 450 ppm. This, along with its exhilarating flavour, means that Dentyl Active Enamel Restore will:
Help strengthen tooth enamel by replacing lost minerals
Help protect against acid erosion3
Help tooth enamel become more resistant to acid attack
Data on file.
Enhanced Antibacterial Activity of Cetylpyridinium chloride in Oil: Water Mixtures; O.Ilan and M.Rosenberg; Tel-Aviv University, Israel; Journal of Dental Research 75 (5) 1996
Reference on file.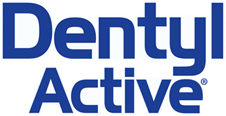 Tweet