Why hello there,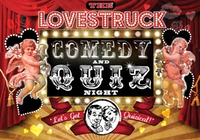 Join us for the Lovestruck Comedy and Quiz Night, Tues 19 Nov – a night of fun and flirting (and a healthy bit of competition) at The Comedy Cafe, Shoreditch. Get 20% off before midnight 11 Nov using code LOVETOLAUGH!

Our first date idea is brought to you from our friends at the Bluffer's Guide. This week, they recommend a visit to The Horniman Museum. This bizarro museum plays host to exhibitions, a permanent collection of curiosities, a music gallery, yoga classes, gardens and even an aquarium. So click here to bluff up before your date.
As Katy Perry would tell you, this weekend is all about about fireworks. Once again, most of the action is south of the river. You're spoilt for choice with displays at Blackheath, Battersea and Brockwell (on 5 Nov). FAO: North London hipsters – please take the Northern Line and keep going until you get a nosebleed.
And while you've got your head in the clouds, now would be the perfect time to check out the winners of Astronomy Photographer of the Year 2013. For the fifth year running, The Royal Observatory in Greenwich hosts a whole load of entries falling into four categories: 'Earth and Space', 'Our Solar System', 'Deep Space' and 'Young Astronomer' for under-16s.
The next Lovestruck Laissez-Faire is at Patch Bar, Weds 13 Nov. It's fun, free to attend and all are welcome to pop along (even non-Lovestruckers), so tell all your single friends/colleagues and have a drink or two at London's hottest free ticket in town.
With a miming action asking if you'd like a beer.
The Lovestruck Lovebot
Tweet