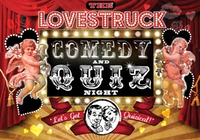 Join us for the Lovestruck Comedy and Quiz Night, Mon 12 Aug – a night of fun and flirting (and a healthy bit of competition) at The Comedy Cafe, Shoreditch. Earlybird tickets on sale now! Book by midnight on 31 July for 20% off!

Step back in time this evening and into the glamorous world of the Wam Bam Club at the beautiful Bloomsbury Ballroom. Join Lady Alex and her crazy cabaret friends for a night out on the tiles to remember! So if comedy, music and magic are your thang, you can book with the code LOVESTRUCK30 for 30% off your ticket! There's even a free glass of bubbly waiting for you when you arrive – why thank you, ma'am!
Can't quite make it to the seaside this weekend? Well fear not as the beach hath cometh to you. Make the most of this new-found summer and reeeelax from the comfort of a deck chair on Camden Beach. With a BBQ, margaritas, ping pong, ice cream, 150 tonnes of sand and no seagulls to steal that ice cream straight from your hand, life's a beach.
Earl's Court is turning Japanese and this is your chance to visit Hyper Japan, a festival of Japanese culture. Enjoy everything from fashion shows, demonstrations, workshops and seminars, to live performances from rockers VANIRU. Tanoshimu!
The next Lovestruck Laissez-Faire is at Gilt London, Weds 7 Aug. It's fun, free to attend and all are welcome to pop along (even non-Lovestruckers). So tell all your single friends/colleagues and have a drink or two at London's hottest free ticket in town.
Tweet