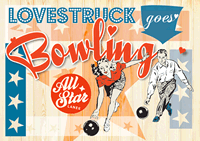 Join us for Lovestruck Goes Bowling, Sun 26 Jan – a night of fun and flirting (and a healthy bit of competition) at the Allstar Lanes, Holborn. Use code LOVESTRIKE by midnight on Monday 13 Jan for 20% off!

The new year is well and truly upon us and 'tis the season for the most unlikely of bedfellows to meet: dating and detoxing. So with a wheatgerm smoothie and all the advice you need for dating a Dryathlete, the Bluffer's Guide are back! We suggest you click here to find out indeed what a 'Dryathlete' is and how you can date one. Now jog on.
For a cinema date, we'd recommend seeing Vince Vaughan (not like that) in Delivery Man. It's a light-hearted look at what happens if you invest in too many 'get rich quick schemes'. (Clue: he gets more than he bargained for – 142 children to be exact.)
And if all that just sounds like a load of noise, let us recommend catching some of the spectacular shows from Mime London Festival, 2013 in venues all over town including the Royal Opera House, Barbican and The Southbank Cantre. So your place or mime?
Take a look and see who's going to our next Lovestruck Laissez-Faire at Apartment 58, Wednesday 15 Jan. It's fun, free to attend and all are welcome to pop along (even non-Lovestruckers). So tell all your single friends/colleagues and have a drink or two at London's hottest free ticket in town.
Tweet