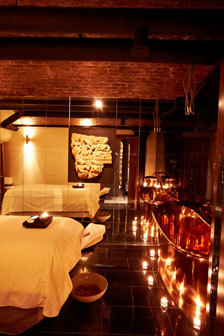 Ahh January. The holiday's are over, we're back at work, spring is still months away, as is payday…you get our gist. Why not beat the January blues with a trip to Thailand? OK, maybe not, but we have the next best thing! A perfectly indulgent Thai treat where you get pampered, don't have to lift a finger, get to spend some quality time with your partner and feel amazing afterwards…
Thai Square Spa is in the heart of Covent Garden, located just behind Seven Dials. Housed in a converted Victorian warehouse, it has 14 treatment rooms and five special rooms dedicated to Thai massage. There is also a Mosaic Steam Rasul Suite and a soothing relaxation area, where you can completely relax and recharge alongside your partner following your treatment.
This is a totally authentic Thai experience; you can expect to swap your shoes for slippers on your way in, have a traditional floral foot soak before any treatment and be offered exotic Thai herbal tea as a refreshment. All the products are amazing and are inspired by ancient Thai herbal remedies and rituals. They include herbs, flowers and roots dedicated to the wellbeing of the mind, body and soul.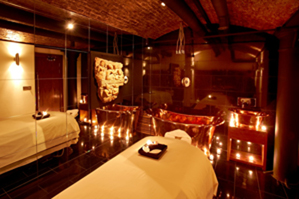 The spa offers a range of couples' packages including The Couple Indulgence, Couples Divine Getaway and Thai Square Royal Couple. We recommend the first two for an indulgent and completely different date experience. The Couple Indulgence lasts for two and a half hours and includes: a Floral Foot Bath; Herbal Steam, where you and your other half can enjoy the therapeutic effects if Thai traditional herbs to soothe the body and relax the mind; reflexology; and then a Traditional Thai Massage, which is a blend of deep tissue massage using pressure points and stretching techniques to release tension, increase vitality and flexibility and rebalance the body, mind and spirit.
The Couples Divine Getaway is a three-hour package and includes a Floral Foot Bath; Exotic Scrub to exfoliate, hydrate and refresh the skin, leaving circulation improved and your skin glowing; a Thai Traditional Massage; and Facial Revival, which uses pure essential oils to remove impurities and detoxify and nourish the skin.
If the idea of being treated alongside your date doesn't tickle your fancy, then go your separate ways for one of the huge range of body, facial, hand and foot and ritual therapies on offer.
Afterwards you and your other half will leave feeling refreshed, revitalised and relaxed. What more could you need from a date?
Right, who's coming?
Do you love a spa date? Tell us @lovestruck
Tweet