Oooooh! Ahhhhhhhh! We all know Fireworks Night is one of the best nights of the year for a date – cosying up with a loved one, sharing a toffee apple and sipping hot chocolate while gazing up at a beautifully romantic display.  We've pulled together some of the best public events in London to help ignite the spark(lers) and help your date go off with a bang! Boom!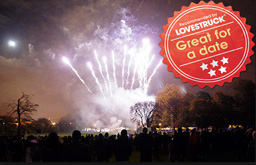 November 5: Brockwell Park Fireworks, Dulwich Road, SE24 0NG
Visitors can expect a seven-metre high lighthouse bonfire, entertainment by Lords of Lightning, a giant mechanical firebird and Human Catherine Wheel shows by Emergency Exit Arts, not forgetting the 20-minute firework display by the company behind London's new year's Eve and the Olympic Opening Ceremony.
5pm, fireworks start at 8pm; £7, under 16s – free.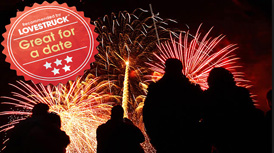 November 5: Crystal Palace Park Fireworks, Thicket Road, SE20 8DT
Get ready for whizzes, fizzles and bangs with fireworks at 7pm for the younger ones, with the main display starting at 8.30pm. There will also be a family funfair and food and drinks stalls serving up a selection of autumnal treats.
6pm, fireworks at 7pm and 8.30pm, £7, £5 3-10s, under 3's – free.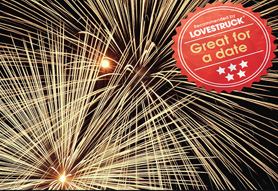 November 5: Southwark Park Fireworks, Lower Road, SE16 2PA
Alongside the obligatory fireworks, there will be circus performances, a family funfair, music and mulled wine and hotdogs on offer. It's always popular, so get there early.
5pm, fireworks at 7pm – free.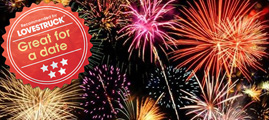 November 8: Battersea Park Fireworks, Queentown Road, SW11 4NJ
Visitors can expect an amazing fireworks display choreographed with music, food stalls, glow concessions and a bar. Tickets must be bough in advance, so if you're nearby getting booking!
6pm, fireworks at 8pm; £6.50-£10, under-10s free.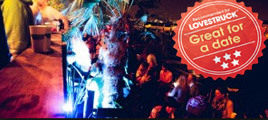 November 8: Hackney Firework Pyromusical, Clissold Park, Stoke Newington Church Street, N16 9HJ
Hackney is hosting their first fireworks display in over a decade and it will be synchronised to music. Guests can also expect illuminated stilt walkers, fire performances, an aerialist performing on an 11-metre high installation, alongside food and drinks.
5pm; non residents £8.50, children £3.50, residents £7.50, children £2.50.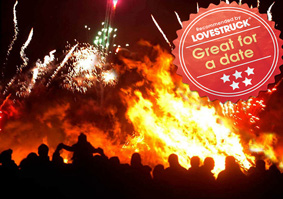 November 8: Ravenscourt Park Fireworks, Ravenscourt Rd, Hammersmith, W6 0UL
The picturesque surroundings will provide the perfect backdrop to the huge fireworks display. There will also be a smaller children's display earlier in the evening, a funfair and stalls serving food and drinks.
6pm, fireworks from 7.15pm; £8, £5 in advance from the Lyric Theatre box office.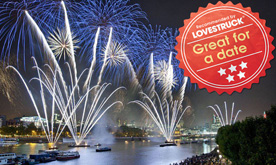 November 8: Lord Mayor's Show and Fireworks
The centuries-old tradition starts with a parade of marching bands, floats and the Lord Mayor's Coach making their way through the historic streets, with over half a million people watching. Later in the day, to mark the beginning of a new mayoral year, there will be a huge fireworks display over the river, set off from a moored barge. Tickets are allocated on a first-come, first-served basis, though a great view for the fireworks is on the riverside between Waterloo and Blackfriars Bridges, either on Victoria Embankment or on the South Bank.
Parade begins at 11am; fireworks at 5.15pm; free.
Will your date be going off with a bang? Tell us @lovestruck
Tweet