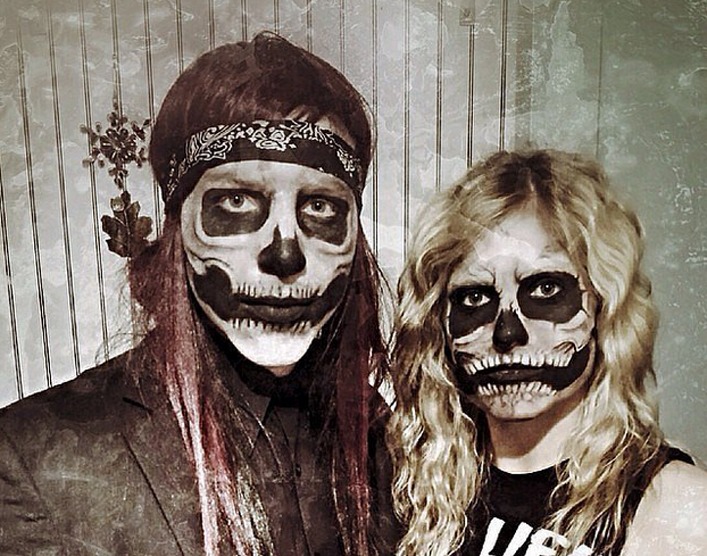 We've all dated a few creeps in our time but now it's time for us to do the creeping. Yes, the scariest night of the year is back and we never tire of dressing up as vampires, werewolves, zombies, ghouls or axe murderers. There's something so very liberating about being someone or something else for a night and getting into (naughty) character.  What do you mean you've got 'no body' to go with…ah, we see what you did there.
You've still got time to message that hot date and pick an event from our mischievious medley of spooky London date ideas.  It's time to get frighteningly flirty…
Horror movies at the Rivoli Ballroom
We love the movies but here's the thing about scary ones. It makes your date lean that little bit closer, take your hand or better still, jump into your lap.  The Rivoli Ballroom is showing a run of classic horrors such as The Shining and Halloween.  Just don't go alone. You can let go of my hand now. What do you mean you're not holding my hand…
Vampire lover? We all kinda liked the idea of Twilight, right? Oops, just us then. Don your best Dracula costume  and make an appearance at the gothic play "Lunatic", based on the Bram Stoker's 'Dracula' The story is focused on the relationship between Dr. John Seward and his fly-eating patient R.M. Renfield. What does it have to do with Dracula? Well, go find out and sink your teeth into this one.
The House of Usher at Hope Theatre
Hands up who's read the Edgar Allan Poe? Wait, how did you detach it from your arm? We were saying, this book left us unable to sleep for the rest of the night as we imagined all the creepy creatures under the bed (we've woken up to some creepy creatures in our beds but that's another story) It's time to revisit those childhood nightmares and grab a ticket to 'The House of Usher'. The plot is inspired by Edgar Allan Poe and you will not be disappointed. This thrilling musical is telling us the story of the Ushers, a noble family plagued by a terrifying curse…(it just got cold in here)
This awesome electronic music producer needs little introduction (Skream) Yes this well known DJ will be performing at Village Underground on 28 October and there won't be a better opportunity to don your best costume mask, freaky eye lenses, faux blood, fangs – the more frightening the better. Bring your friends, dance till dawn, fool around, 'freak' out skreeeeammm!
Halloween party on Lee Valley Farm
Got kids? Good news – Lee Valley Farm is throwing a Halloween party  and this is the last time you can enter and enjoy this amazing place before they close down for winter. Lee Valley Farm offers all kind of activities for the families – they will show you how to carve a pumpkin for Halloween,  let you into a haunted house and as a cherry on top – you will get to see chinchillas, llamas and zebu.
Lovestruck 'Día de los Muertos' free for all party at Patch Bar
If you find yourself single on Halloween, this should perk you up. We've got our very own singles party at Patch bar on 2 November celebrating the Day of the Dead – the real spookiest night of the year. No entry fee, no nametags, no rules. Simply ask for a blood-red straw (entirely optional), sink your fangs into a steaming spirit or two and let some gorgeous Lovestrucker spot your red straw and chat you up. You're sure to leave with some-body…..(mwwwwaahhhahahahah)
Know of any other creepy but thrilling date ideas? Send a blood written note or tell us @Lovestruck
Save
Save
Save
Save
Save
Save
Save
Save
Save
Save
Save
Save
Save
Save
Save
Save
Save
Save
Save
Save
Save
Save
Save
Save
Save
Save
Save
Save
Save
Save
Save
Save
Save
Save
Save
Tweet