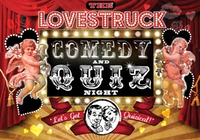 Join us for the Lovestruck Comedy and Quiz Night, Tues 19 Nov – a night of fun and flirting (and a healthy bit of competition) at The Comedy Cafe, Shoreditch. Get 20% off before midnight 11 Nov using code LOVETOLAUGH!

Members of the jury, we put it to you that dating can sometimes be difficult – especially when you're juggling romance with a full time job. Luckily, the folks at the Bluffer's Guide dispel yet more pearls of wisdom with their Guide to dating a lawyer. While they can't help you to win every future argument, they can advise you on what to expect and how to bluff your way through your date.
'tis the season already. (Well, according to Oxford St/Regent, anyway.) So why not grab a willing Torvill/Dean-type (delete as appropriate) and head over to South Kensington for the Natural History Museum Ice Rink? According to your level of skill, you can wow the adoring public/cling on to the side for dear life in the stunning grounds of Alfred Waterhouse's Natural History Museum. And afterwards, warm up with a mulled wine from the balcony bar. Ten!
And while you're out and about, don't forget to look up for The Lord Mayor's Fireworks at 5pm. However, if you feel like staying inside and having a good cry, Philomena is the philm for you. Featuring Steve Coogan and Dame Judi Dench, this drama will certainly get you thinking. (And weeping.)
The next Lovestruck Laissez-Faire is at Patch Bar, Weds 13 Nov. It's fun, free to attend and all are welcome to pop along (even non-Lovestruckers), so tell all your single friends/colleagues and have a drink or two at London's hottest free ticket in town.
With a miming action asking if you'd like a beer.
The Lovestruck Lovebot
Tweet