Going out for food is always a fun date option but should you want a more intimate and chilled-out date, why not pack a picnic and head off to one of Hong Kong's great date spots for some alfresco dining. There are plenty of secret (and not so secret) places to take you away from the hustle and bustle of the city. Here are our top choices: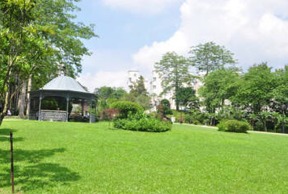 Gate Lodge at Victoria Park Garden
Located at the lower part of Victoria Peak garden is a secret lawn behind the historic Gate Lodge, a little stone Renaissance-style house with blue windows. The garden has gorgeous gazebos and park benches and is a great place to set up your blanket, wicker basket and treats.
 Dragon's Back at Shek O Country Park
Here there are designated picnic areas looking out onto the stunning hills of Hong Kong Island's south side with the sea in the distance. It is quite a steep trail through bamboo and lush woodland to get to it but once you're there it is worth it for the romantic views alone.
Clear Water Bay Country Park
This spot is also a great one for beautiful views and it is a great spot for picnics and flying kites. There is a designated picnic area or you could fire up your own BBQ. If you need to burn off some extra calories, you could hike up High Junk Peak, known as one of the most testing hikes in Hong Kong!
Sun Yat Sen Memorial Park
Located near the entrance of Western Harbour tunnel is a great spot for picnics, complete with view of the harbour. Made form reclaimed land, the space is well manicured and a lovely spot to kick back and get to know your date better.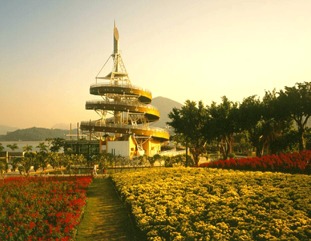 Tai Po Waterfront Park
At 22 hectares, the Tai Po Waterfront Park is the largest urban park in Hong Kong with huge lawns, an insect house, outdoor theatre, a model boat pool and bike rental kiosk. There is also a 32-metre lookout tower, which offers spectacular views.
Ng Tung Chai waterfalls
Only to be accessed by keen hikers, this superb series of waterfalls heading down the slopes of Tai Mo Shan is breath-taking. Take your food along the rocks by the stream about a 30-minute hike. If you're feeling adventurous head up the steep flight of steps up the main falls after (or before) you have eaten.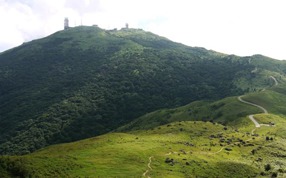 Tai Mo Shan
The highest mountain in Hong Kong has a designated picnic area, 700m above sea level. You will be able to see the upper slopes of Tai Mo Shan to the east and Deep Bay beyond.
Nam Sang Wai
Crisscrossed by the Shan Pui River and Kam Tin River, this spot is great for picnics. The landscape comprises of mostly abandoned farms and fishponds and is home to a huge variety of birds and wildlife, so you'll feel miles away from the hustle and bustle of the city.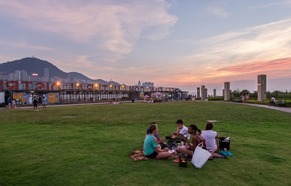 West Kowloon waterfront promenade
Offering fab views of Victoria Harbour, West Kowloon's promenade is great to avoid the crowds. There are lots of grassy areas, ideal for picnicking and admiring the views.
What's your favourite picnic spot in HK? Tell us @lovestruck
Tweet