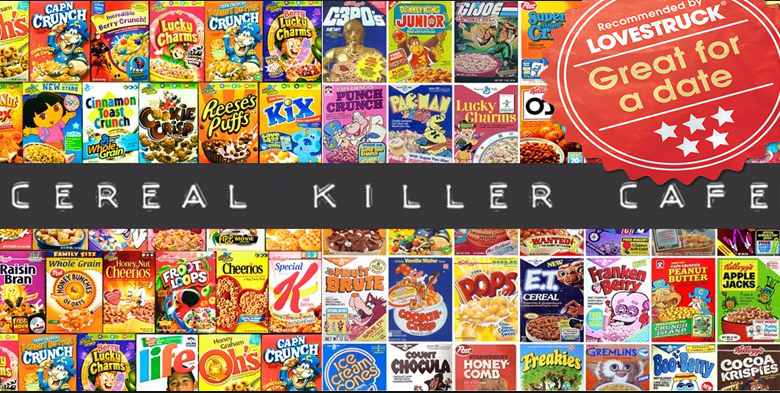 Fancy flirting over a bowl of Frosties? Canoodling over a bowl of Crunchy Nut? Teasing over hot toast? Could breakfast dating be the next best thing?
The UK's first speciality café, the Cereal Killer Café located on Brick Lane in East London offers 120 types of speciality cereals, 20 toppings and 12 different types of milk – served cold, warm or steamed. Run by identical Belfast twins Gary and Alan Keery, who think cereal should be enjoyed any time of the day, from morning 'til night. Apparently they came up with the idea when they were hungover one afternoon and craving some sugary cereal.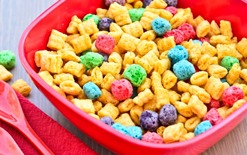 Alongside plain cereal ranging from Special K to Lucky Charms, there's coffee, toast, cereal-inspired cakes, cereal cocktails and 13 different varieties of Pop Tart on the menu. Look away now porridge lovers, it's not cereal, so it hasn't made the cut. However, with so much choice you're bound to find something you like – there is even one cereal called Poppin' Pebbles, which is berry-flavoured cereal with popping candy in it.
Bowls are either small medium and large bowls at £2.50/£3.00/£3.50 respectively. Or you can pick up a 'combo meal' of medium bowl of cereal and toast, Pop Tart and tea/coffee/juice box for only £5. Cereal cocktails include 'Smore than words' – Golden Grahams, mini marshmallows and chocolate milk, 'Crunchy nutcase' – Crunchy Nut Cornflakes, Crunchy Nut Clusters, walnuts, pecans and hazelnut milk and 'Bran Gran Thank-You Maam' – Bran Flakes, granola, dried fruit and mix seeds served with soy milk.
The décor is obviously also based around cereals with vintage memorabilia lining the walls, featuring limited-edition cereal packets, alongside skateboards, kits, old-school games and cuddly toys. There are also with TVs playing '80s and '90s hit shows, including the classics like Saturday Morning Breakfast Club. The café is open from 7am until 10pm and services breakfast, lunch and dinner, which means cereal fans can get their fix anytime of the day.
Will you be a 'cereal dater' Tell us @lovestruck
Tweet