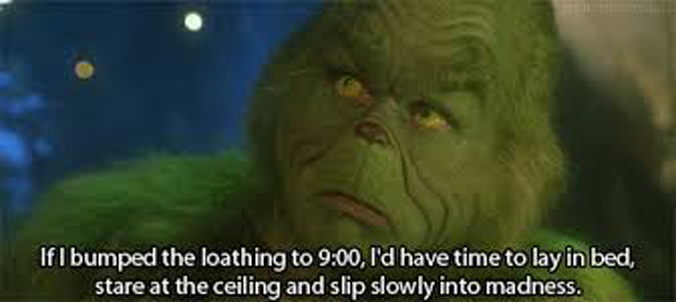 Bah-humbug. Sometimes the endless Christmas movies and sore throat from inhaling too many festive scented candles is just too much. Maybe you've belted out one too many renditions of 'All I want for Christmaaas…is yooouuu' can't stomach another leftover turkey meal or are just feeling plain 'Grinchy'
Here are our top anti-xmas dates for December/January…
When? December 14 to January 10 2016
Where? Vaudeville Theatre, 404 Strand, WC2 0NH
What? The wild-haired comedian is at London's West End with his show about the gap between how we imagine out lives to be and how they really are. Featuring personal anecdotes from his travels, such as a disastrous trip to Norway to see the Northern Lights, he also includes plenty of his trademark songs. Comedy dates are great. Did you know laughing with a date is scientifically-proven to make you feel closer to them? Time to book those tickets!
When? December 10 to March 12 2016
Where? Savoy Theatre, Strand, WC2R 0ET
What? Who wants to check out a dodgy panto when there's this awesome musical with co-choreography by Carlos Acosta around the corner? Here for 13 weeks, this Chichester Festival theatre production tells of story of gambler Nathan Detroit who makes a bet with Sky Masterton to take the straight-laced Sarah Brown out.
When: Now until 10th January 2016
Where: The Lounge, Leicester Square Theatre, London.
What? GoT fans who can't wait until next April 16 for season 6 may appreciate this hilarious version.  'Graeme' takes you on his own unique journey through the Seven Kingdoms, unhappy with how his books were portrayed in the TV mega-hit he sets about showing us how it should have been done. Expect the usual GoT trappings: gory deaths, incest and battle scenes with razor sharp comic timing.
When? From now until 17 January 2016
Where? Southbank Centre, Belvedere Road, SE1 8XX
What? Part of the Southbank Centre's Winter festival, Bump Roller Disco is a wooden-floored roller disco. There will be a special line-up of club events on Fridays and Saturdays and a bar serving apres-skating drinks and winter cocktails. This is a great ice-breaking first date option that'll also burn off those Christmas calories…
When? From now until January 14th
Where? The Green Carnation, Greek St,  W1D 4DD
What? An hilarious drag queen impersonates the famous princess in this pun-filled, wickedly tongue-in-cheek tale of the classic Cinderella story.
Do you have any other anti-xmas date ideas? Tell us @lovestruck
Tweet