There one thing about Hong Kong that everyone who lives there knows: it's expensive and when your wallet is wincing at the end of the month, dating can feel like an expense you could do without, if you want to keep yourself stocked with toilet roll. Never fear: Here we bring you Lovestruck.com's top 10 ideas for dates that won't cost you a penny!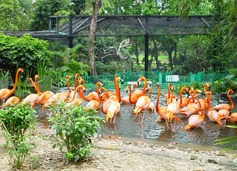 1. Head to the zoo
Hong Kong's Zoological and Botanical Gardens, located on the northern slope of Victoria Peak, is free to visit. Home to hundreds of animals, including alligators, flamingos and monkeys an dover 1000 plant species, there is plenty to see and do on a date here.
2. Go to a museum on a Wednesday
On a Wednesday it is free to go to many of the city's museums including the Hong Kong Museum of Art, which boasts more than 15,000 pieces, the Hong Kong Heritage Museum and the Hong Kong Space Museum, which has interactive exhibits highlighting milestones in astronomy and space.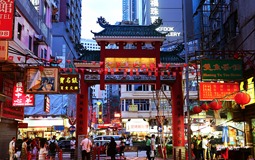 3. Browse the Temple Street Night Market
As the sun goes down, head to Temple Street where market traders sell an array of trinkets, tea ware, clothes, watches and antiques every evening. Named after the Tin Hau temple located in the centre of its main drag, there are also opera singers and fortune-tellers here.
4. Sunbathe at Golden Beach and Repulse Bay
A popular spot for swimming and sunbathing, pack up a picnic and head to Golden Beach for to catch some rays and get to know your date better. This is one of the most beautiful beaches in Hong Kong and its perfect crescent shape is also great for walks along the sand at sunset. If you fancy splashing some money or doing some window-shopping, then the nearby colonial-style building, The Repulse Bay is home to designer shops and award-winning restaurants.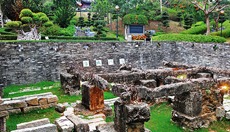 5. Stroll through Kowloon Walled City Park
Soak up some history at Kowloon Walled City Park, which was once the site of a walled fort. A sanctuary to refugees after World War II and then a slum, it is now a stunning Chinese park and garden built in a Jiangnan style with beautiful pavilions.
6. Visit the Temple of Ten Thousand Buddhas
There are many temples in Hong Kong but this is one of the most impressive and consists of not only one temple but also five temples, four pavilions and a pagoda. Don't head there in your best shoes – it is a steep walk up a hillside above Sha Hin, where rows of smiling statues lead up towards the main monastery complex.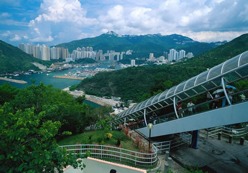 7. Hop on the world's longest escalator
Made up of 20 moving staircases, the escalator dissecting Hong Kong's Central and Western District is 800 metres long and free to ride. Stop off for a drink in one of the bars in Soho, so you don't look like a complete cheapskate!
8.Enjoy the view at the Bank of China
Check out the incredible island views from the 43rd viewing platform at the Bank of China Building – one of the most recognisable skyscrapers in the city. Watch the sun go down here for that extra romantic vibe. Another great spot is the rooftop car park of Harbour City in Tsim Sha Tsui.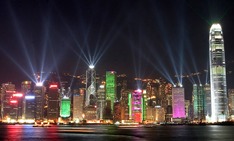 9. Watch the Sound and Light Show
The Symphony of Lights  at Victoria Harbour is the world's largest light and sound show, featuring coloured lights, laser beams and search lights all set to music and narration. There are five major themes celebrating Hong Kong's spirit – Awakening, Energy, Heritage, Partnership and Celebration. It starts au 8pm and you can enjoy the show in English, Cantonese or Putonghua.
10. Find your favourite celebrity on the Avenue of Stars
Located on the Tsim Sha Tsui waterfront is the Hong Kong Avenue of Stars paying tribute to over 100 celebrities, opera stars, directors and scriptwriters and celebrating over a 100 years of cinematic history. There are handprints, commemorative plaques, memorabilia and a life-size statue of action hero Bruce Lee.
Do you have any other free gems for dating? Tell us @lovestruck
Tweet