While coffee culture has been raging for some time in other countries, Singapore is finally catching up and with special coffee cafes and artisanal coffee houses opening all over the city, the coffee scene is getting better all the time.
Coffee here is a mixture of kopi, a brew favoured by locals and famous for its sweet flavour and coffee imported from the west via Melbourne. We've always rated a coffee date here at Lovestruck.com. When it comes to a first date, it's relaxed and informal dating – allowing you enough time to see if there's chemistry before potentially going on elsewhere but if you know that your date isn't right, you haven't wasted a whole evening or hurt anyone's feelings by bailing early.  Here are our top 7 choices: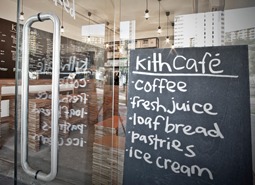 1. Kith Café
On the river in Robertson Quay, Kith's coffee is designed to be sweet, rich and heavy and the blend combines speciality coffee beans from Peru, Brazil and Sumatra. There is also honest fuss-free food and great brunches and a seating ear that promotes intimacy. All in all, a fab first date coffee venue.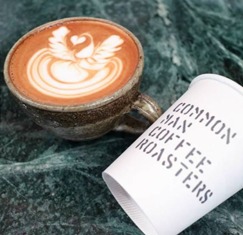 2. Common Man Coffee Roasters
Created by Harry Grover of 40 hands and Five Senses Coffee and the Spa Esprit Group, Common Man Coffee Roasters located on Marin Road offers customers a selection of house blends to suit every taste and mood. Sourcing beans from all over the world from Guatemala to Sumatra and Costa Rica to Ethiopia, their coffee to top notch and they also serve fab all-day breakfasts, including pancakes, and Common Man full and veggie breakfasts.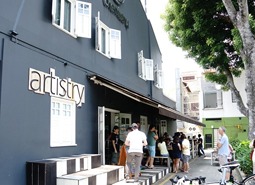 3. Artistry 
Are you an art lover? Then grab a coffee with your date at this new art gallery and café in a quiet corner of Kampong Glam heritage district. The café showcases local and international emerging artists and serves Liberty coffee and artisan desserts to customers.
4. Toby's Estate
This Australian export on Robertson Quay serves excellent coffee in an old spice and coffee warehouse. Offering a wide variety of speciality coffee beans from all over the world and artisan roasting technologies, this is a firm favourite with coffee lovers.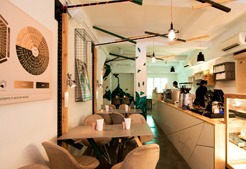 5. Forty Hands Coffee
Bursting onto the scene in 2010 as one of the very first coffee places to offer a taste of Third Wave Coffee (a movement to produce high-quality coffee), the café champions sustainability, coffee knowledge and love of the dark stuff. Renovated just last year, it now has a cosy, soulful feel making it the perfect place for a date. The brunch here is excellent and served until 4pm each day.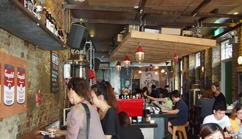 6. Symmetry
A café by day and restaurant and bar by night, Symmetry – based within Jalan Kubor – takes inspiration from Australian casual dining and French cuisine, with an emphasis on sharing food. Their coffee is blended from beans from Brazil, Papa New Guinea and Guatemala and they even employ a professional roaster in Senolo, where coffee beans are roasted once a week.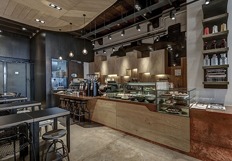 7. Department of Caffeine
It's all in the name really – here they are passionate about coffee and tea and serve up sustainably sourced speciality coffee beans and a bespoke range of teas. The menu includes classic dishes, sandwiches, salads and cakes.
Do you love a coffee date? What are your favourite coffee stops in Singapore?
Tell us @lovestruck
Enjoy these date suggestions? You may also like:  Top 7 After Dark Singapore Dates
Tweet