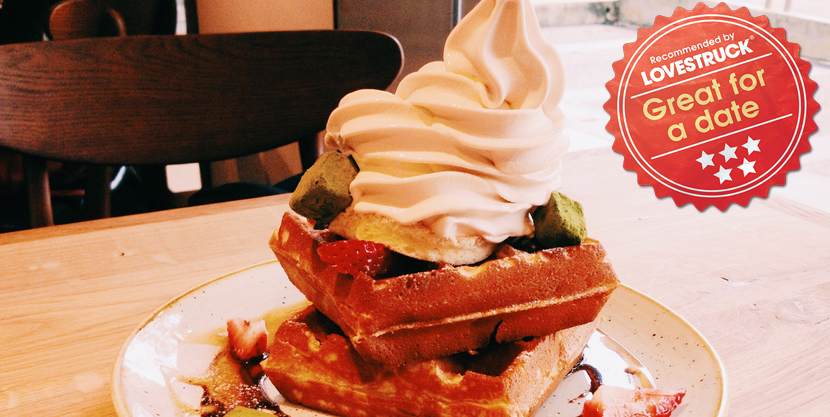 Whether you are a fan of American or Belgian style, crispy or soft, sweet or savoury or piled high with various toppings, waffles are serious business in Singapore. If you and your date are into waffles, even better, because you can go and devour them together. Scouring Singapore for our best waffle recommendations was not a tough task! But we won't waffle on, we bring you our fave date choices: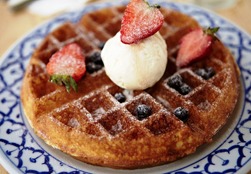 1. Stateland Café
Located in the hipster area of Bali Lanes near Arab Street is the industrial-themed Stateland Café. Run by three young hipster guys, there is heaps on the menu, including six waffle variations. Top choices include the Red Velvet Waffle served with cream cheese and vanilla ice cream, The Black Forest Waffle topped with cherry compote and chocolate ice cream and the S'mores Waffle with toasted marshmallows, digestive biscuits and Belgian ice cream. Best arrive hungry, we're thinking!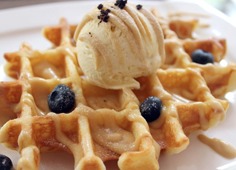 2. Hatter Street
Often packed to the hilt, Hatter Street has been open just over a year and serves traditional desserts with a twist. If you are after a Snickers Cheesecake drizzled with caramel sauce of Devil's Food Cake with milk chocolate mousse and dark chocolate fudge, you'll find it here. The most popular order is the waffle called Whoa-ffle – served with different sauces, such as salted caramel and homemade ice cream. Apparently a sweet and savoury option with ham and bell pepper ice cream is also in the making…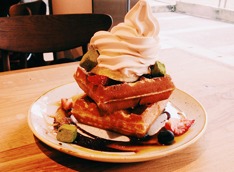 3. Sunday Folks
Situated in Chip Bee Gardens, Sunday Folks is a good place to stop for dessert after a meal nearby. Taking inspiration from that laidback Sunday vibe, chill out here with handcrafted desserts like freshly churned ice creams, cakes, waffles and a curated range of drinks, like artisan teas and craft beers. Be sure you check out the Belgian Waffle with Earl Grey lavender ice cream – the waffles are crispy and piping hot and the ice cream is all made in-house.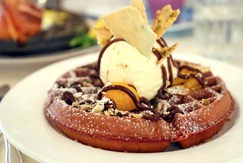 4. Waffle Slayer
An offshoot of Strangers' Reunion Café is Waffle Slayer next door. Managed and run by Singapore National Barista Champion Ryan Kieran, there are a handful of waffle choices to pick from. We love the sound of the Banana Brulee Buttermilk Waffle with walnut crunch and vanilla bean ice cream or the Matcha Buttermilk Waffle, a green tea waffle with azuki beans, ice cream and canned orange segments. Savoury fans could try the Squid Ink Waffle with crispy bacon, ice cream, pistachio tuile and maple-dijon mustard glaze.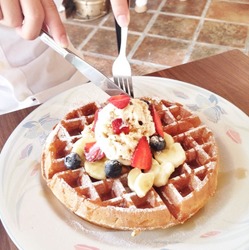 5. Yellow Cup Coffee
Inspired by the coffee culture of New York, Yellow Cup Coffee prides itself on its gold standard coffee, served in yellow cups. Based on the central Business district and a handful of other outlets, the two waffle choices are Wafficilicious Ice Cream – brown-crusted waffles with ice cream, maple syrup and topped with fruit and Fruity Waffles with tropical fruit.
Have you got any other waffle café recommendations in Singapore? Tell us @lovestruck
Tweet