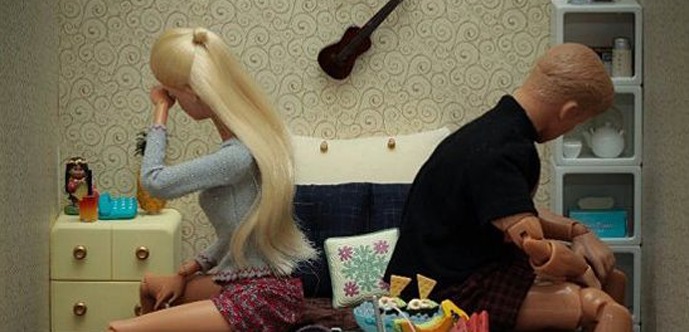 So you finally find the person of your dreams and enjoy a blissful year or so of dating before maybe moving in together and then… BAM! All too often, life's trials and tribulations sour your newly found slice of relationship heaven and the heated arguments begin.
You may take comfort in the fact that you're not alone as a new survey by the Office for National Statistics has revealed the most common causes of strain in relationships here in the UK.
Couples beware as in true BBC Crimewatch style, we name, shame and parade the main culprits. Recognise any?
Money woes  – a whopping 62 per cent  blamed money worries for causing the most conflict with their partners. Despite being compatible with a partner, many only realise they are not financially compatible when they reach the stage of shared financial responsibility.
Long working hours – 40 per cent blamed long working hours and a lack of work/life balance as a major culprit, often caused when one person works longer hours than the other or one of them is regularly required to work late.
Affairs – 36 per cent said this was was the third biggest problem facing couples as the cracks and strains (maybe caused by the above two points) begin to show.
On a different page – Not understanding each other accounted for 34 per cent of arguments as couples work through the added stresses and stages life presents two differing personalities/genders.
Rows about family –  24 per cent of couples with children stated a difference of opinion in how to bring up a child placed a strain on the relationship.
Sex life – 11 per cent admitted different levels of libido's caused troubles once the honeymoon period subsided.
Housework – 8 per cent of couples row over shared household chores. Now, we won't presume it's men not pulling their weight…
The study also looked at the impact relationships have on personal well-being and happiness where marriage, despite its rapid decline in popularity over the years, boasted the most positive results.
It found that a third (32 per cent) of people who are married or in a civil partnership rated life satisfaction as 9/10 – 10/10, compared with 26 per cent for cohabiting couples, 21 percent of singles and 18 per cent of people who were divorced or separated.
Can you name any other relationship wreckers? Tell us @lovestruck
Tweet