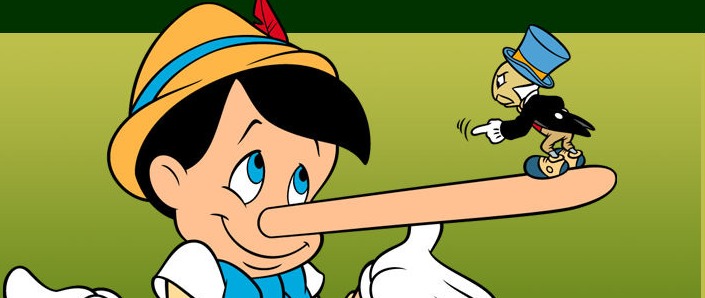 Psst! Have you ever stretched the truth on a first date? No? Are you sure, not even a teeny white lie? Come on, fess up because if the answer to this question is yes, then you are not alone – according to a recent survey, the majority of us are guilty of lying when out with someone for the first time!
According to the study, 61 per cent of us tell fibs on first dates but men and women lie about very different things. Activity website Chillisauce talked to 8000 men and women about first date porkies and while 37 per cent of women admitted to lying about their age, lopping off an average of four years to theirs, men like to bump up their salaries by 20 per cent, with 29 per cent revealing they said they had better incomes.
The next thing we lied about most was our work – with men saying they are entrepreneurs or hold down jobs as investment banker and pilots, while women say they are interior designers, teacher and models…like they'd never be found out eventually?
When it comes to past relationships and marriages, 18 per cent of men stretched the truth, while 14 per cent of women fibbed about their name – and gave their date a false one!
Men were least likely to lie about their age and where they grew up but of those who did reveal that they changed their childhood city, Hull topped the poll, followed by men from Bradford, Leicester, Birmingham and Preston. Proud residents who didn't hide their hometowns come from Newcastle, Brighton and London.
So what if you really fall for your date on first meeting? Well according to this study, not all is lost and 44 per cent of those who said they like to expand on the truth first time round, come clean by date three and 25 per cent would admit to lying if they were caught out.
What if your first dates never lead to second ones? This study said that women find overconfidence the top first date turn-off (28 per cent), followed by their date using their phone (21 per cent), drinking too much (18 per cent), cheesy chat up lines (13 per cent) and being late (10 per cent). Men ranked their date using their phone as the top turn off (37 per cent) apparently because they thought she could be gossiping with her friends or talking to other men, followed by their date talking about themselves (22 per cent), then being late (13 per cent).
First dates are also not the popular – with 68 per cent of women and 49 per cent of men saying their would rather stay in with a takeaway with their mates – and one in five men even admitted they would rather flirt with girls on his phone than take one on a date!
Do you lie on first dates? (Don't worry your secret is safe with us!) Whisper in our ear @lovestruck
Tweet