Easter is almost here and we are already thinking of all the yummy things we're planning to eat…cake, hot-cross buns, chocolate eggs, yes it's just another day in the Lovestruck office but enough about us…
There's nothing more special (or rewarding) than a home-baked creation. Do you fancy yourself as a bit of a Mary Berry? We've picked out a special chocolate krispy chick via BBC Good Food (www.bbcgoodfood.com), so if there is someone in your life who deserves a visually quirky, culinary crunch-tastic treat, then you have no excuse not to throw on an apron and get baking…in fact, why not get your date involved? #SuchFun !

Choclate Krispie Chick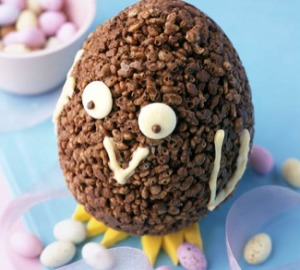 Preparation time: 40 mins
Special equipment: Two chocolate eggs moulds, a piping bag, rolling pin, flat pastry brush or small paintbrush
Ingredients:
For the egg:
• 175g milk chocolate broken up and more for decorating afterwards
• 50g Rice Krispies
To decorate:
• 2 x 50g bags of Cadburys mini eggs
• 2 white chocolate buttons
• 50g golden marzipan
• 25g white chocolate broken up into pieces plus extra for decorating

Instructions:
Break up the chocolate into pieces and melt in a heatproof bowl over a pan of simmering water, making sure the bowl doesn't touch the water. Stir until smooth, then take off the heat and add the Rice Krispies into the mix, coating well. Put half the mix into one of the moulds and use the back of your spoon to press it into a thick, even layer. Repeat with the other mould and leave in a cool place to set. Put the moulds in the fridge for five minutes. Don't be tempted to leave the moulds any longer as condensation could cause the chocolate to discolour.
Carefully ease the eggs from the mould. Fill one half with a few eggs, then put the two halves together with melted chocolate. Patch any holes and leave in a cool place to set.
To make the chick's eyes, paint blobs of melted milk chocolate onto the white chocolate buttons. Fix onto the egg using a little more chocolate. Spoon the white chocolate into a small piping bag, then pipe a beak and wings onto the egg and allow to set.
For the feet, roll out the marzipan on a sheet of greaseproof paper and use a knife to cut out two feet, making them big enough for the egg to rest on. Once the egg has completely cooled, place the chick on its feet, pressing down so that it stays upright. Finish by scattering some mini eggs around your chick to create a nest. Voila!
Got any other fabulous Easter recipes for a scrummy date?
Share with us @lovestruck (one fork)
Tweet