OK, sometimes being single sucks (Valentine's day anyone?) but often coupled-up friends will tell you that the grass is greener – and actually there are loads of great things about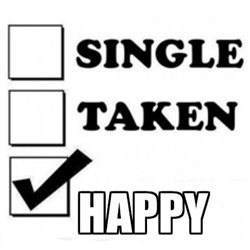 not having a special someone in your life. If you've started this New Year on your own, don't feel down about it but remind yourself of why singledom can be great.
After all, the next person you meet might be 'the one' and after that – you will hopefully live happily ever after and those single days will be a thing of the past, so our advice – enjoy it while it lasts.
We've pulled together our favourite things about not having a partner for you to muse over:
You can do whatever you want: Slob out in a onesie with a takeaway? Take that last-minute holiday with friends? Sleep all day on Sunday? Yes, it may sound obvious but not having to answer to anyone else can be great.
You can spend more time with friends: It's inevitable that being coupled up means you spend less time with old friends – and even less time nurturing new friendships. Being single offers endless possibilities when it comes to reconnecting with people and having loads of quality time with old buddies.
You can spend more time on your career: No one wants to spend every waking hour chained to their desk but not having a significant other at home means there is loads of energy to focus on your current career – or moving into one that you enjoy more.
You can focus on you: This might sound cheesy but being on your own allows for personal growth. It gives you a chance to reflect on the past and think about what you want in your next relationship.
You don't have to deal with their family: It's very rare that you should love everyone in your partner's life, including their relatives and friends and it can often be a minefield. Being on your own means you only have to deal with the people that you want to in your life.
In the end, we all want that special someone in our lives. But 'settling' is never the answer, so enjoy your time alone, do date, but remember… there's no pressure!
Do you agree? Tell us why you think being single has some benefits @lovestruck
Tweet