Were passionate and dedicated to helping people find true love. Here is a selection of success stories from Lovestruck happy couples ♥
Kuman & Gray
Thanks to Lovestruck for giving me the opportunity to meet Gray. Your team has always introduced me to lots of men to help me meet my other half and true love. It's fate for me to know Gray, and Lovestruck provided me with this fate which I believe I can hold on to. Lovestruck's team has diligently followed up on each date, so that I can get to know my matches and enjoy quality service on every date. After each date, Lovestruck will ask both me and my matches for date feedback. Although my relationship with Gray has just started, I believe we can walk into the next stage of life together. Thank you Lovestruck, thank you Gray, and thank you to myself.
Michelle & Goddard
I would like to thank everyone, especially Sophie. She first introduced Goddard to me on the first day when I came to your company. Goddard is the second person I dated on my first day since I joined the service. We are two Virgos and we like talking to each other all the time. We have much in common. We take feelings seriously. We both like laughing. Happy that we do not miss each other. In all, thank you Lovestruck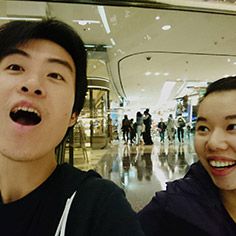 Esther & Jeff
I meet Jeff through this company. During our first date, I feel he is a nice and quiet gentleman, he treated me the meal. Meanwhile, we still keep in touch using whatsapp. After our vacation, we decided to meet again for movie. Then he started to like me but I wasn't sure about my feelings. Then we went on more date and getting to know each other more deeply, I thought I didn't like him, but I actually have some feelings for him but I just didn't notice. I talked to him about his feeling and what is our relationship. He told me he likes me since our first date and I said I like him too.
Rita & Cheong Lei
Through yours service, I quickly found the right woman for me. After a few datings, we have a good relationship, sharing joy and worry, and establishing love. Dear professional team of matching consultants, I would like to express my gratitude to the professional service provided by the consultants of Lovestruck. In spite of the fact that I have only joined one year membership, the speedy matching arranged Cheong and I to meet up for the first appointment. Since then, we have started dating and maintained close contacts with each other. Being a teacher, my social circles are limit, so through this platform, I have opportunities to know members from different walks of life. In short, I am deeply impressed by your professionalism and eagerness to help us.
Cena & Bill
I knew your company after using the iphone app Lovestruck. After I subscribe the service, i was introduced to several nice ladies and Cena. To be honest, I didn't expect too much of the service until i met Cena. I found my matchmaker did a really good job, matched me to a specific one who really fits. I really appreciate that. Your team has provided valuable matches which saved a lot of time for professionals who are very busy with their own schedules. Your selection process has helped me significantly in finding a match, and your dating arrangements helped saved me a lot of time. Although it took some time to finally meet a match that worked out, the experience was a very pleasent
Wing Yin & Paul
I'm very grateful to Lovestruck for all their arrangements! I still remember that on August 2017, I first downloaded and installed your app, and then went on my first date during a signal 3 typhoon. Then on my date with the 5th match you introduced me, I met my current wife! I still can't believe it. Compared to other matchmaking companies, Lovestruck uses its own innovative matching methods to find good matches, reduce awkward situations and make success occur naturally. Thank you so much for helping me and making my dream come true this past year.
Hazel & Michael
I first met my wife Hazel via Lovestruck when she winked at me. She seemed just my type, so we exchanged a few messages. After our first date, we started talking every day, and spending as much time together as we could. It wasn't long after that we moved in together, and now we are happily married!!! We are both so happy together. When we tell friends our Lovestruck story, and they see how happy we are together, and a lot of them ask us how they can start! Pretty soon, they start telling us about all the great new people they met and all the fun they're having. Joining Lovestruck has been the best thing I ever did.
Sammi & Nanjia
It was a very nice experience to be invited to dinner with different kinds of people. Before I was not that confident but now I am very happy to meet Sammy which was introduced by your company Lovestruck. We both are very happy together and really liked the service you provided us. Thanks! Lovestruck has a pool of clients working in different areas, with frequent referrals and matching, helping me to find my Mr. Right. Thank you for matching us together.
Yvonne & Calvin
Love is a romantic journey from acquaintance to falling love. I am fortunate to be able to find the right person at the right time, in the right place, and Lovestruck is my beacon in this courtship journey. In the three months that I have been a Lovestruck member, I am grateful to the team for carefully arranging my dates at conveniently located restaurants. I have met more than a dozen ladies and have enjoyed many pleasant and relaxing dating experiences! Without Lovestruck, Yvonne and I would have lived our separate lives in this world. Lovestruck has built a bridge for us so that we can walk into each other's inner world. I am grateful for the team's patient follow-up after each date to let us overcome our emotional barriers and start to love again.