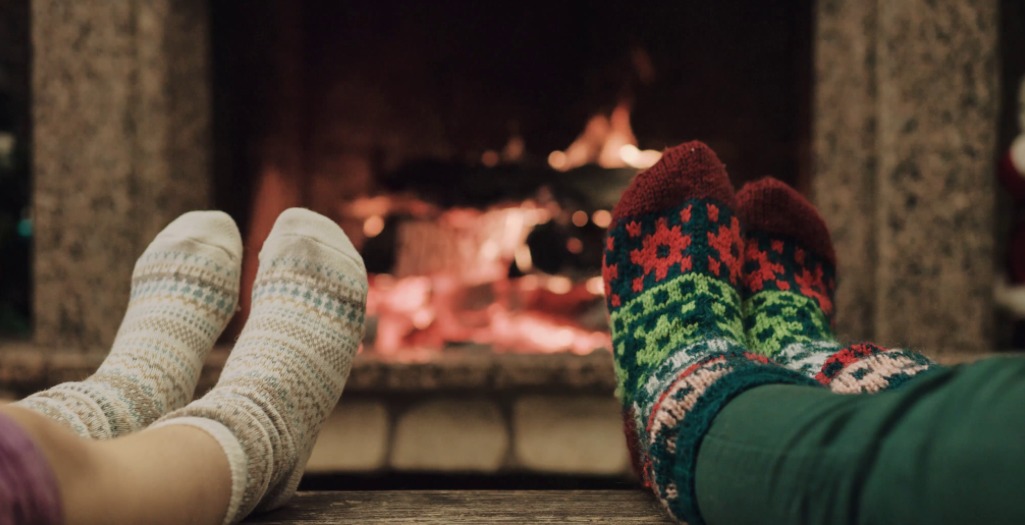 Prince Harry and Meghan do them. We love them and in fact, they're perfect for the winter months. Of what do we speak? Why date nights in is what.
Yes, as the winter chill bites and the days grow shorter, you can keep you fancy swanky restaurants and cocktail bars thanks, we're drawing the curtains, lighting the candles and twinkly lights and plumping up the sofa cushions. Here's how to have have the best dates, in.
Rock around the Christmas tree
Get into the festive spirit and get your date busy helping you decorate the tree and deck the halls. Put on some rockin' Christmas tunes, mulled wine and get all tangled up in the Christmas lights (accidently on purpose) It'll take two to untangle, should you so wish to do so. Then, reward your efforts with a warm beverage, a mince pie and a classic Christmas movie. Oh, and don't forget to hang up the mistletoe (directly above the sofa).
Movie marathon
By the time you've got pop, buckets of popcorn too, those cinema dates get pretty expensive, right? Why not have your own movie night? Grab popcorn and snacks from your local supermarket and set a movie theme for the evening; romance, horror, thriller, Christmas classic or kiddie movies. Dim the lights, cosy up on the sofa and enjoy a movie marathon (and each other)!
Masterchefs
Agree on something tasty you both love then get cooking it together. Maybe something you've never tried before? Make it fun with your fave tunes in the background. Can you match your the local restaurant speciality? Curry? A cake, dessert? Yule Log?  Bond over a bowl and some kitchen utensils and make it fun, cos whether it's a culinary sensation or a total foodie flop, something else was certainly cooking in that kitchen…
Around the world

Do you or your date have a destination you loved or would love to visit or share? Why not theme a date in around it at home? Maybe you could suprise your date and dress a room accordingly. For example, Italy, it's got to be pizza or pasta food, Chianti, Italian music and an Italian movie. France and Mexico are other great ideas and New York for Christmas where it's got to be burgers and Home Alone 2! All a passport to a fun date night and hopefully, a one way ticket…
Adventures of babysitting..
We've all got them. A frazzled sister, brother or friend longing for some time away from the kids. Why not offer to babysit with a trusted date? It's a great excuse to chanel you inner kid and play with those fab toys of yester-year whilst gaging how your date might be with your future children (did we say that out loud)? Wear dem kids out with the childish fun you used to enjoy then both relax on the sofa and reminisce about school days and childhood, hopes, dreams, romantic crushes and aspirations…
Silly games
You can learn alot about a date when you play them at something. Overly competitive? Really funny? Super bright? Gracious loser? Total loser? Shove the xbox to one side and dust off the classic games -remembe when interaction is key. Chess? Draughts? Twister, Connect 4, Scrabble? Guess Who? Crack open the vino and remember, it's only a game…
Cocktail night
Be fully prepared for a sleepover if you go for this one. Chanel you inner Tom Cruise (though do take care if throwing bottle around) and get yourself set up with a shaker, a shot mesure, strainer, ample ice and…and all your favourite cocktail staples (gin, vodka and tequilla is a good start). Try several recipes, add exotic fruits, little mixers, umbrellas and trust us, you won't even care what they taste like after the third…
Aww, we're all up for a date in, when can we come over?
Have you got any other fab ideas for dating in? Keep it clean and creative @lovestruck
Tweet